Holly Bennett, BCBA
M.S., BCBA, LBA – Maryland
Holly Bennett has been working with individuals with autism since 1997 when she started in a Lovaas early intervention program. She then worked at Kennedy Krieger Institute in the LEAP program for children with autism and the Neurobehavior Unit (NBU). While on the NBU she conducted functional analyses of problem behavior, preference and stimulus avoidance assessments, functional communication training, and data collection and analysis. She is trained in both Basic and Advanced PECS communication training through the Pyramid program. She received her Masters Degree in autism and applied behavior analysis from Sage University in May 2012, and became board certified in applied behavior analysis in September 2012. Holly developed an RBT training curriculum for Carroll Community College and is currently teaching the course. Her areas of interest are organizational behavior management, reduction of maladaptive behaviors, verbal behavior, performance feedback and treatment integrity. Holly started ABA Solutions in 2014 with the goal to reach many families in Maryland and provide them with high quality support through her amazing teams.
Holly began teaching ABA 654: ABA Management and Programming in Spring of 2022 through York College, PA. Holly also has been teaching a course to meet the 40-hour requirement for the Registered Behavior Technician (RBT) credential since March 2020.
Ludmila Costenco, BCBA
M.S., BCBA, LBA – Maryland
Ludmila Costenco is a Behavior Analyst and psychologist with 20 years of experience working with children and young adults with autism. She is adept at delivering services for families as a whole. She is open to providing services and support in three languages.
Through her career she worked with Children's Hospital in Republic of Moldova, Hussmann Institute for Autism and Kennedy Krieger Institute.
Ludmila says a common question she gets from parents and caregivers is, "how can I make my child experience better and be able to have a normal life as my friend's family?" She shares that once you learn the reason for a behavior and the way for your child to communicate efficiently, you can replace the undesired behavior with socially appropriate behavior and that is the first step to more balanced life. Teaching to communicate and learning to accept and listen to your child is the key to success.
As a behavior analyst who works directly with children and supervises services in the region. Ludmila finds enjoyment in finding solutions to any problem or barrier by using her creativity and working with a team to make improvements for patients and their families, while acknowledging and embracing cultural diversity and differences in values of each family. She is adept of the active engagement of the family as a whole in the treatment and development of the child is a critical point for achieving and maintaining long-term success.
"I think parent training is a significant part of ABA therapy because it gives parent/caregivers tools and skills to make the connections with their child they once struggled to have. A chance to experience joy in life. There is nothing more reinforcing for a therapist than the smile of a parent whose child ran essential name, was able to play or made eye contact for the first time."
Amy Furlow, BCBA
M.S., BCBA, LBA – Maryland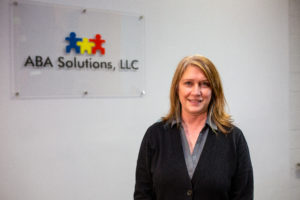 Rachel Goldberg
M.S., BCBA, LBA – Maryland
Hello! My name is Rachel and I am a Board-Certified Behavior Analyst and Licensed Behavior Analyst looking to utilize my skills with behavior management, inclusion advocacy, independent living, and academic achievement. I specialize in teaching verbal behavior, managing aggression, and early intervention. I have been working with ABA Solutions for about a year and a half now and I've really enjoyed such a supportive and upbeat climate!
Lauren Nittinger
M.S., BCBA, LBA – Maryland
I'm Lauren and I'll be your Board Certified Behavior Analyst (BCBA). I obtained my certification in August of 2019. Prior to getting certified as a BCBA, I worked in a non-public Autism program for three and a half years. I started as a one-to-one aid and ended my tenure there as the Lead ABA Instructor where I assisted in the academic and behavioral programming for the school. I have worked one-on-one with children and young adults from the ages of 3 to 21 years old. I love working with all children and helping them unlock their true potential. I am so excited to meet with you and your child to start this amazing journey!
I also love all animals and enjoy meeting your furry friends as well! They are family too!
Fatmata Bah
Registered Behavior Technician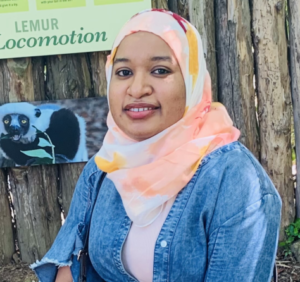 Desmond Bull
Registered Behavior Technician
Desmond is an alumnus of Bowie State University, where he studied Information Systems. When asked about his career goals, he aspires to combine automated learning technologies and principles of ABA to help kids on the spectrum live a more functional and independent life. He has steadily progressed in the field for three years and counting. During this time, Desmond has helped multiple families from different background and cultures. His humility, and willingness to understand other people's point of view is always referenced by the families he serves.
Outside of mandated training, he researches materials to expand his knowledge of ABA and behavioral science. He was one of few scholars awarded the prestigious 2020 ACBS World Conference Scholarship to attend a stakeholders' conference on contextual behavioral science in New Orleans. Such early, and vital exposure reinforced Desmond's passion and interest in the field of ABA.
Desmond loves to have fun in the field, as he implements strategies to help kids he serves. He personally believes that everyone deserves the innate right to express themselves to the best of their ability. Desmond wants his kiddos to be expressive in all forms, unlimited by anything whatsoever. He enjoys creative writing and playing soccer in his leisure time.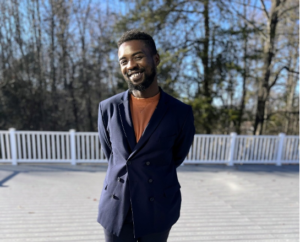 Nicole Branham, RBT
Registered Behavior Technician
My name is Nicole Branham and I have been working with ABA Solutions since they started. I absolutely love this company and the relationships I have built with the team, the clients and the families. I am also a teacher and a Director for a private Catholic school in Baltimore city.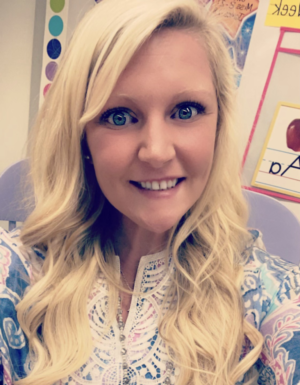 Kevin Francis, RBT
Registered Behavior Technician
Molly Hennessy, RBT
Registered Behavior Technician
Molly has been working for ABA Solutions since September of 2020. She has been working professionally with individuals with Autism since the Summer of 2019. Molly obtained a Neuroscience degree with a Psychology minor from Lebanon Valley College. Following graduation in 2019 she worked at Amazing Kids Club up until the start of the pandemic. She primarily worked with groups of up to 6 11- to 12-year-old children. After taking 3 months away from the ABA field, Molly found herself back in it with the opportunity to work for ABA Solutions and never looked back. Molly fell in love with what ABA Solutions stands for and the one-on-one aspect, it was a change from the group setting she was used to. She loves seeing the progress that her client has been making over the past year and is excited to see how it progresses further. Molly is also currently attending McDaniel College in the Masters of Mental Health Counseling program. Her hope is to pair ABA therapy in with counseling because her area of interest is PTSD in children, especially those with Autism, and Veterans.
Ashley Holdridge, RBT
Registered Behavior Technician
Hello! I'm Ashley and I've been working with ABA Solutions since they began. I've been working as a RBT since 2016 and absolutely love it. I am also a 5th grade teacher for Howard County Public Schools. I love working with our amazing families!
Adama Kamara, RBT
Registered Behavior Technician
Hello My name is Adama Kamara I earned my Bachelor degree in psychology from the prestigious Bowie State University I have been in the field of Applied Behavior Analysis for 4.5 years I have had the pleasure of serving clients ranging from 2-18 years and in diverse needs in my time as a RBT. I assure you to provide one of the Highest Quality of service to each client as well as positive energy to each session using my creativity to create a fun experience for my clients.
Wendy Moreira, RBT
Registered Behavior Technician
I have been working with ABA Solutions as a behavior therapist since September 2020 and have been a certified RBT since July 2019. I I have always been passionate about working with children, especially children with disabilities. I have worked with children with autism both in-home and in-school settings for over 5 years. My favorite part about working as a RBT is being able to see the progress and skills being learned that help assist my clients build their confidence and independence. I am also fluent in Spanish. In my spare time I enjoy working out, cooking new recipes, spending time with my family, hiking, and traveling.
Katrina Nguyen, RBT
Registered Behavior Technician
Hi! My name is Katrina, but all the kiddos call me Ms. K! I have been working for ABA solutions LLC. since 2019. I have my bachelor's degree in psychology and in Social work. I am currently working on receiving my master's degree in Applied Behavior Analysis to become a BCBA. I
enjoy working with young children between the ages of 2 and 6 years old as it allows me to engage in creative play with clients. I enjoy working as an RBT because I get to work directly with the individual and the families. I also have the privilege to see progress in the child's communication skills, life skills, and social skills when they begin ABA services. When I work with a family, I like to get to know the family's values and cultural beliefs as this can help me understand how to approach treatment goals. I believe it is important for families to be involved in their child's treatment so that I can maintain cultural competence and for effective services.
Katy Noll, RBT
Registered Behavior Technician
Hi, my name is Katy! I have been working in a Special Education Center in AACPS going on 8 years now. Particularly working with students who have more severe behaviors. I have been a part of behavioral teams at the school and have now been working with a student from Kennedy Krieger in-patient for the last 4 years and seeing how much the student has improved and how successful they've become and knowing I was a part of that means everything to me. Throughout my first few years at this school I had an amazing opportunity to meet Holly and a few others who were on Holly's team! After hearing great feedback on my behavioral skills, I was confident I wanted to be an RBT. I looked into joining the company in 2019 and have been here ever since! I have been able to find my career path and see my strengths shine with ABA Solutions and look forward to continuing growing with the company!